Andre Timokhin
Technology Expert
Passionate IT professional with over 20 years of hands-on technical experience specializing in infrastructure administration with a proven track record of designing, building and maintaining IT infrastructure solutions to fit business needs as well as a demonstrated ability consistently complete complex IT projects on time and within budget.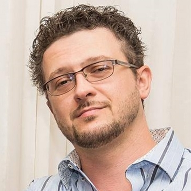 Networking85%

Servers95%

Windows / Mac Workstations100%

Technical Project Management90%
Citrix XenServer70%

Microsoft Hyper-V75%

vmWare ESXi95%

Strategic Planning95%
Active Directory85%

Microsoft Azure70%

Office 36595%

Vendor Management100%
E-Commerce Startup selling Electronic Cigarettes and Accessories.
Responsibilities:
Represent technological agenda in executive meetings and when making hiring decisions
Spearhead IT projects to increase market reach
Negotiate with and manage all IT vendors
All systems architecture design and deployment
Track, analyze and monitor technology performance metrics
Experience:
Grew organic site traffic to over 250k unique monthly visitors through content generation and SEO
Increased conversion rate from 1.3% to 2.5% utilizing A/B split testing to improve user experience and drive sales
Integrated disparate SaaS platforms to streamline business processes resulting in 35% operations cost reduction
Deployed and maintaned all systems with no downtime or security breaches
Lead Field Network Engineer provides support and mentorship to Field Network Engineers and Senior Field Network Engineers, including training and guidance on company processes and products. Creates, drives, and improves Engineer initiatives to improve overall service delivery and customer satisfaction.
Responsibilities:
Conduct technical interviews
Architect and oversee all client projects
Train and mentor all Field Network Engineers
Review and manage system assessments, the process, and resource allocation
Senior Field Network Engineer maintains and improves client computing experiences as well as designs in-depth technical project plans to support the efforts.
Responsibilities:
Maintain up-time and all systems for 8-12 primary clients
Lead new client system assessments
Design technical project plans
Execute projects on time and within budget
Field Network Engineer maintains and improves client computing experiences through effective on-site monitoring, maintenance, problem identification and resolution activities, as well as further developing positive reputation with existing clients through exceptional service.
Responsibilities:
Maintain up-time and all systems for 6-10 primary clients
Identify and resolve infrastructure and system issues
Assess potential client environments
Write IT proposals and recommendations
On-board new managed IT clients
Experience:
Performed complex technical projects meeting or exceeding defined deadlines
Maintained high customer satisfaction and retention rating
Wrote system assessment reports and recommendation proposals